Welcome to our website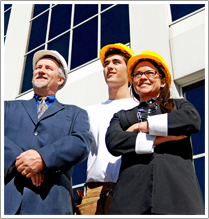 Since 1999 Tri-City Service has been serving Raleigh, Chapel Hill, Durham and the surrounding areas. We provide construction and maintenance services that include painting, tiling, drywall, and framing services.
Getting a job done right requires teamwork and communication. Tri-city Service has built a solid reputation for working well with others. Our clients include Drucker & Falk properties, Triangle Communities properties, Dominion properties, and dozens of apartment communities, as well as construction companies, in the greater Triangle area.
If you want your project done right the first time then Tri-City Service is the company for you!
Our staff

The owners of Tri-city Service have lived in the Triangle community for a number of years, and we have more than seven years' experience here, assembling and managing crews of workers to meet our clients' needs for maintenance, remodeling and new construction. One of us personally visits every work site to ensure that your work is performed correctly, and we are available to you by cell phone 24 hours a day, seven days a week.

At Tri-city Service, service isn't just part of our name; it's what we do. From the person who answers your phone call, to the carpet cleaner, to the drywall hanger, to the management staff, you can expect prompt, courteous, respectful service from our team of skilled workers and trusted subcontractors.